Sircom Impex is a construction equipments producer located in Arad, Romania.
Our products portfolio include 5 different types of professional concrete mixers, 2 types of wheel barrows and more than 10 types of hand trucks.
We also are producing metallic structures with concrete sewer lids and support chairs for industrial applications.
Our technical assets and equipments allow us to produce different types of metallic manufacturing products, Sircom being one of the most important metallic manufacturing services providers in the region.
QUALITY MANAGEMENT
Sircom Impex management insist on satisfying the clients quality needs implementing continual improvements activities in order to achieve improvements of its products.
Our company has implemented and maintain a certified quality management system till 2006.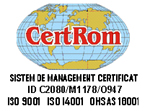 Company history:

Sircom Impex SRL is a private company created in 1998 as a joint venture (romanian - italian partnership), its fist activity being small and medium size metallic manufacturing, starting with sub-assembly of motorized farming devices, including the rotor with blades from magnates sheet, steeled.

Company was specialized (2000) in the production of construction equipment, especially the production of concrete mixers, Sircom being one of the most important producer of this product in Romania.

Sircom also produce wheelbarrows, hand trucks, sewer lids from metallic structure with concrete and different parts of metallic manufacturing products.

From 2004 Sircom is 100% Romanian private company after the acquisitions of all shares by the Romanian partner.

Sircom has a good technical endowment, owning all the equipment needed in the production of metallic manufacturing: hydraulic press, lathes, drill machines, etc..

1999 – 2004 export to Italy - sub-assembly of motorized farming devices, including the rotor with blades from magnates' sheet, steeled (BENASSI); - stainless steel boxes for washing machines; (different clients)
2005 – 2006 export to France – different metallic manufacturing products;

Technical endowment

Sircom is able to work metal sheets of 3000 mm in width and 16 mm in thickness.
Sircom can do and have:
- simple splinter works;
- "abkant" metal sheets bending with 2500 mm in width, metal pipes bending with fixed ray and electronic adjusting of angles, and variable ray with hydraulic adjusting;
- hydraulic press machine of 100tf;
- mechanical press machine with exocentric of 60tf and 16tf;
- rollers for metallic sheets with 2000 mm width and 5 mm in thickness;
- plasma cutting machine, maximum 15 mm;
- pipe and profile cutting machine;
- MIG – MAG welding equipments;
- circular welding robot;
- TIG welding equipments;
- manual and fixed polishers;
- polishing machines;
- gas kiln for thermo treatments;
- production facilities: workshop of 1200 sqm and an industrial building of 1100 sqm; we build a new industrial space of 600 sqm for developing the electrostatic painting shop;
- electrostatic painting workshop


Personnel:
- workers: 13
- sales representative: 1
- workshop engineer: 1
- accountant/economist: 1
- marketing department: 1
- general manager: 1

Official website: www.sircom.ro For clients and distributors please see the website.

ISO standards: ISO 9001 granted by AJA.

Trade marks owned: SIRCOM

Design and drawings registered:
concrete mixers designs and sewer lids produced by SIRCOM.


We are looking for a partner to develop our current activities of small and medium metallic manufacturing and our products in the field of construction equipments. Also we are interested in to maximize our technical endowment.

The main objective of any new collaboration has to be, in our opinion, manufacturing qualitative products at the clients' expectations level!

Thank you for your interest in our company and we kindly invite you to visit us at our headquarter near Arad.